You have the power part 3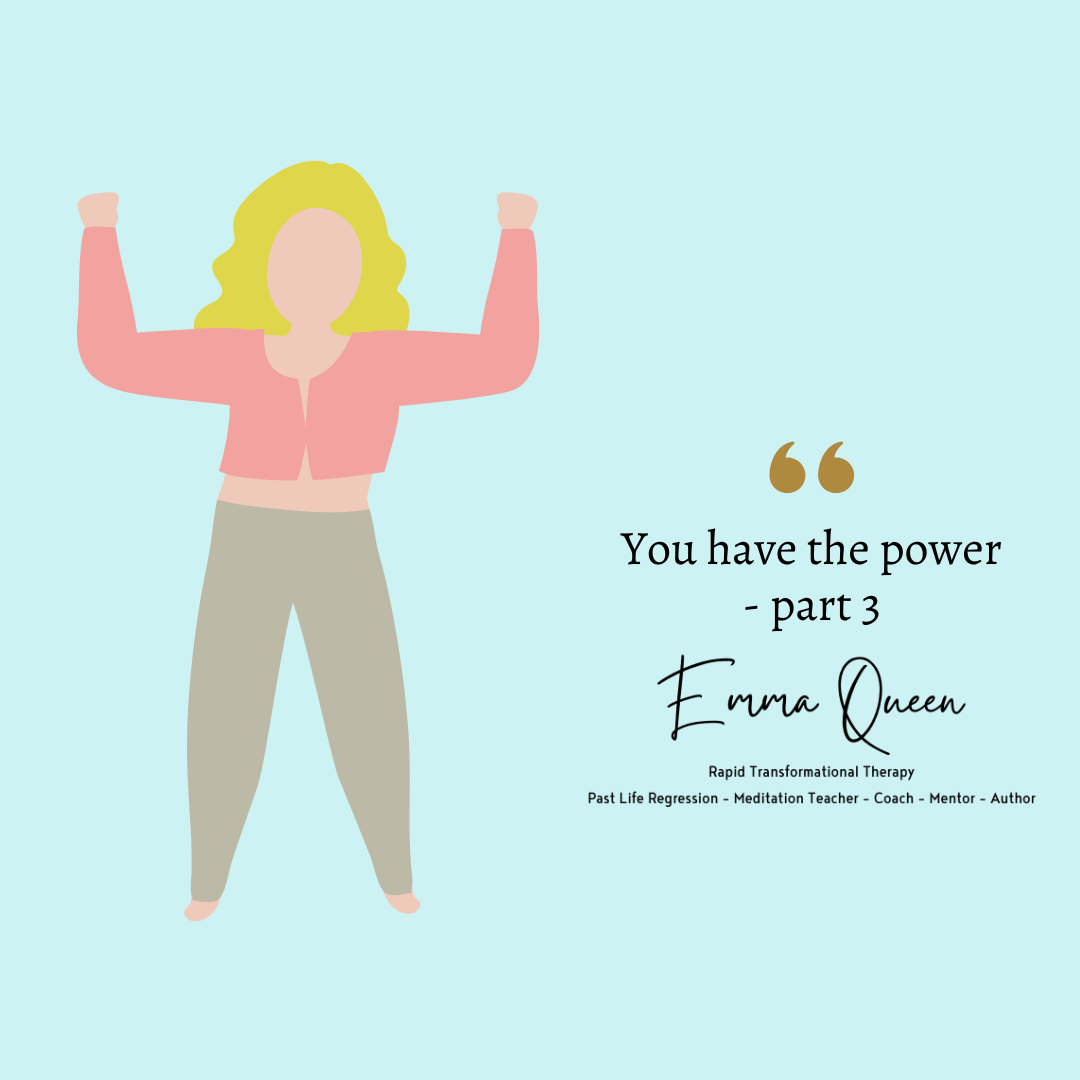 Part 1 is here: https://emmaqueen.com.au/you-have-the-power/
Part 2 is here: https://emmaqueen.com.au/you-have-the-power-part-2/
In the last blog on this subject, I spoke about what it looks like to have lost your power. In today's blog, I will explain what it looks like to have tuned into your power.
In my Rapid Transformational Therapy (RTT) sessions, this is what essentially changes with my clients, which is why I talk about it so much!
When you are in touch with this power, this is what it can look like:
You trust yourself and your decisions.
You listen to your gut and tune into your intuition.
You take responsibility – complete full responsibility for your life, actions, results, and choices.
Your personal independence shines through. Ok, you consider others' ideas, but ultimately you decide.
When the sh*t hits the fan – you are not easily discouraged. In fact, you often use this as motivation to push forward.
Emotional intelligence is something you have grown and developed. This allows you to remain neutral and clear-headed in emotional decisions and situations.
Now, this power isn't always available 100% of the time. Why? Cos' you are human. You have emotions, and this will get in the way.
But I like to think of the 80/20 rule here. Isn't that great even if you are 80% in your power?
It all starts with clarity to gain this level of power for yourself. Get clear on what you DO want. (this is where I start with my clients). It's super easy to work out what you don't want, isn't it? So, flip it on its head!
Example: I don't want to be miserable, poor, stuck in the past and banging my head against a brick wall.
Flip it! I want to be happy, look toward the future and be clear about what I want.
Sounds way better, and that energy? Wow, that's a change!
When you get clear on what you want, it's time to let go of the past. We all have a past. Some of us have horrific pasts; I get it. In fact, I see and hear it with my RTT clients. And what I do with them is neutralise the past emotions through RTT and hypnotherapy. This can take from one to three or four sessions, and it works. Decades of hurt can be released in a month or so. By rewiring the mind, letting go of the past and creating clarity – we create a pathway of possibility. A pathway to the future. One that looks bright and full of power.
This creates confidence and self-assurance. It transforms how you perceive and interpret all the problems, challenges and obstacles you face in the future. 
Sounds too good to be true? Well, my friend, I think you underestimate your power to change. Your ability to create this pathway of possibility.
My clients embrace this clarity. They create the life they want (and deserve) and soar towards their future. And you can too. Let's chat.
Emma x